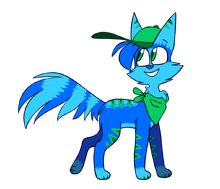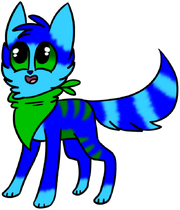 KoolKitty100,
or
Chloe
, is an Australian animator who animates and draws the based on her and her friends for YouTube, deviantART, and Instagram accounts. She goes by the name Sketch online. She has also uploaded a few vlogs as of June 2018.
She uploads mostly animations but sometimes screen recordings of her friends using her tablet and real life videos that she decides not to animate.
KoolKitty100 was not the original name of the channel. Up until March 2014, the channel was called KoolKirby100, but was changed due to the fact that Chloe was going to animate the rest of the channel. Before the name change, Chloe was known as Dashie, and her and her friend Pinkie recorded videos instead of animated them.
There are a lot of characters featured in Chloe's artwork/animations, but there are 10 main ones; Sketch, Coral, Static, Cobalt, Bismuth, Angel, Sprinkles, Bubbles, Chilli, and Periwinkle.
Chloe is also writing a television show featuring these characters that she hopes to produce in the future entitled "Coral Sea Lookout", which follows Sketch's journey through senior year after he moves to a new town where he meets many new friends and discovers more about himself.
_____________________________________________________________________________________
YouTube: https://www.youtube.com/user/KoolKirby100/featured
deviantART: http://koolkitty100.deviantart.com
_____________________________________________________________________________________