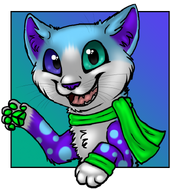 Splash, also known as SplashKittyArtist, is an animator who is known for her animations of cats, mostly involving her OC Splash and her friends.
She also occasionally uploads gameplays of Minecraft, as well as real life videos of her cats (Wendell & Rainer) and her dog (Sky).
She's not as active on YT as she used to be, but she uploads more often on her dA.
Trivia
Her real name is Sarah.
She loves ramen.
She loves animals, pasta, video games, drawing and puns.[1]
She uses Toon Boom Studio 8.0 to animate, Adobe Photoshop Elements 11 and a Wacom Bamboo tablet to draw.[2]
She has two Siamese cats (Rainer and Wendell), one border collie (Sky), and one beagle/doberman (Ella).[3]
She likes to give silly nicknames to her pets; Rainer Container, Wendellini Jones, Sky Pooper, and Ella Bella, respectively.
Her birthday is on July 24.
She lives in the USA.
External Links
References